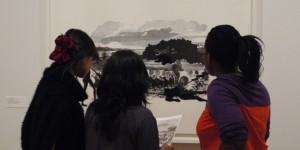 Teaching with Art
Museums are extraordinary places that provide an incredible range of learning experiences for people of all ages – learning that is simultaneously intimate, collective, and empowering.  Museums help make accessible the range and depth of the human imagination.
Founded in 1876, the Mount Holyoke College Art Museum was one of the first collegiate museums in the United States—and today is one of the liveliest! It's a "cultural laboratory" for the campus and is actively used in teaching by faculty and students studying art, history, chemistry, French, anthropology, philosophy, religion, and numerous other disciplines.
Albert Bierstadt's majestic painting, Hetch Hetchy Canyon, was the first gift to the Museum at its founding. Since then the Museum has acquired more than 16,000 objects—ranging from ancient Egypt, China, and Peru to contemporary America. An illustrated online database also allows reference to the permanent collection which is constantly growing through purchases and gifts.
Currently on view, spring 2013:
Kara Walker: Harper's Pictorial History of the Civil War (Annotated)
Throughout her career, Kara Walker has combined exquisite technique with biting social commentary. Her large-scale print suite Harper's Pictorial History of the Civil War (Annotated) is considered by many to be her quintessential work in a multiple format and among the most important works in her oeuvre to date. In it she juxtaposes Harper's version of the Civil War with images of her own that question the notion that slavery ended with the war. Her works insist that we reconsider the semi-official narrative and the true plight of both African Americans and omen during the conflict and beyond—an insistence that asserts the continuing centrality of race in our nation.
Mount Holyoke College is part of  the:  Museums 10
The Mount Holyoke College Art Museum is proud to be a part of Museums10, a dynamic partnership of seven college and three area museums offering visitors the opportunity to experience the art, books, and history of many periods and cultures, all within a 20 mile radius!
Where else can you spend time in Emily Dickinson's parlor, view master works by John Singleton Copley or a rare Roman bust, revisit the beloved book illustrations of your childhood, learn about Yiddish culture and early New England life, and see the world-famous Hitchcock dinosaur tracks up close, all in one day? Only here, in the Five College Area!