Imagine seeing your favorite picture from your favorite children's book in it's original format — a piece of art, not behind glass, not printed and in book form, but with the watercolors, the ink, the collage pieces right there in front of you.   What a joy to anyone who enjoys art – combine that with a favorite book – and you'll get a better rush than any ice cream cone on a hot day!
Today, thanks to the invitation of a friend, I had the opportunity to go on a "Behind the Scenes" tour of the Eric Carle Museum of Picture Book Art!   I am a member, however, it slipped my mind to make that phone call – so a good friend had a spare ticket!
The event was planned, as I understood it, as part of the Arts Week here in Massachusetts.   The first half of the tour was a stroll through their three galleries, with the guide, Courtney, telling us more about the back stories of how and why the items were chosen for display, stories about the making of the exhibit and in the case of living artists, a little about that artist.   One gallery was being readied for its opening in a few days; and we got to be first in at the end of the tour as they were just doing the final touches.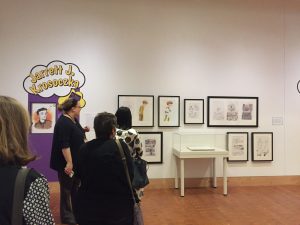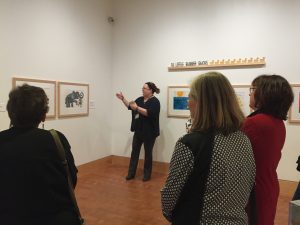 I was reminded as I looked around and listened of how well the curatorial staff there present the whole process of a picture book.  They put on display dummy books, drafts, sketches, words by the artist of their thinking about how to create the piece, and finished products.  In one gallery, they show the sheets of uncut pages as it looks from the printers and before it has been cut and bound into a book.  And, in every space are clear, thoughtful, and authentic ways to engage children of all ages (and being an early care and education professional I say without reservation that they have some of the best of this I've ever seen in a museum).
Second half of the tour was the "Behind the Scenes" with Ellen.  Oh well, the vault was off-limits after all.  We were told that there are 11,000 works of art in that vault – but, really, wouldn't it be exciting just to take a peek at such a sight!   However, she led us into the work area where they frame and mat the pieces going on exhibit, and had for us there about a dozen original works by creators of some of the finest picture book and graphic novel art.  My heart could barely contain itself when I got to see an original illustration of Raggedy Ann!   We also saw several current illustrators work as well.  We were only about 8 or 10 people so we could look close up.  Ellen told us more about the history of the museum, how it came to be a repository of sorts, and the care provided these works of art.
As I mentioned earlier, I am a member of the Eric Carle and go often to see their events, galleries and programs.  When you are in the Amherst area, stop by.  It's a fabulous way to spend a couple of hours.
And, by the way, it is not a children's museum as I've often been asked; however, children are welcome and there's a fabulous gallery/room where children and their families can experience making art together, as well as a cozy small library with couches and books, activities to do in each room, and a place to eat your snacks or lunch (you provide; there is no cafe).
Go!  You can't see the vault, but you can see and learn so much about the world of picture books and their creation!
P.S.  My apologies to Courtney and Ellen if I did not get their names correctly.