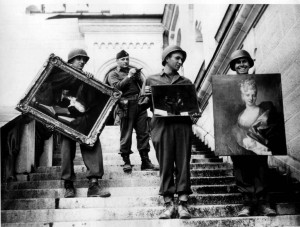 Some movies are stories that need to be told, and not just Oscar plays. Especially now, 70 years after the events portrayed, with many of the players long gone, we need to remember how important master works are, and the lengths that need to preserve them and continue their creation.
The Movie:
The Monuments Men is a 2014 American-German war film directed by George Clooney, written and produced by Clooney and Grant Heslov, and starring Clooney, Matt Damon, Bill Murray, John Goodman, Jean Dujardin, Bob Balaban, Hugh Bonneville, and Cate Blanchett. Loosely based on the non-fiction book, The Monuments Men: Allied Heroes, Nazi Thieves and the Greatest Treasure Hunt in History, by Robert M. Edsel, the film follows an allied group, the Monuments, Fine Arts, and Archives program, tasked with finding and saving pieces of art and other culturally important items before their destruction by Hitler during World War II.
The film, co-produced by Columbia Pictures (in association with 20th Century Fox) and Babelsberg Studio, was released on February 7, 2014
Accuracy:
Although the film is based on real events, the names of all characters are changed, and a number of further adjustments to the historical facts were made in the interests of drama. Clooney is quoted as saying "80 percent of the story is still completely true and accurate, and almost all of the scenes happened".
Dr Nigel Pollard of Swansea University awarded the film two stars out of five for historical accuracy.Pollard wrote that "There's a kernel of history there, but The Monuments Men plays fast and loose with it in ways that are probably necessary to make the story work as a film, but the viewer ends up with a fairly confused notion of what the organisation [the Monuments, Fine Arts, and Archives programme (MFAA)] was, and what it achieved. The real organisation was never a big one (a few dozen officers at most), but the film reduces it to just seven men to personalise the hunt for the looted art: five Americans, one British officer, the first to be killed off (Hugh Bonneville) and a Free French officer, marginalising the British role in the establishment of the organisation. This is presented as set up at Clooney's initiative after the bombing of Monte Cassino (so, after February 1944). In fact, its origins actually went back to British efforts in Libya in 1942, and it already existed (albeit with teething troubles) when the Allies invaded Sicily in July 1943."
Here is the real background to the movie:
http://www.monumentsmenfoundation.org/
More about the real Monument Men:
http://www.theartnewspaper.com/articles