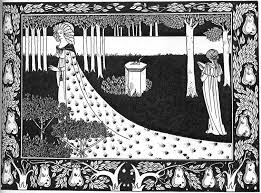 From The Cark a special Member Events. A Look at Rare Books: The Love of Courtly Art.
As The basis for the talk we looked at Le Morte d Arthur by Thomas Malory 1893, in which Aubrey Beardsley produced around 500 illustrations.
We also had access to several other rare books of the time dating back to 1530's. Which we were able to compare early printing with actual hand painted illustrations. And we were amazed by how the pictures were an intricate part of the writing itself instead of a separate image. We were also allowed to examine these examples up close and passed them around!
Aubrey Vincent Beardsley (21 August 1872 – 16 March 1898) was an English illustrator and author. His drawings in black ink, influenced by the style of Japanese woodcuts, emphasized the grotesque, the decadent, and the erotic. He was a leading figure in the Aesthetic movement which also included Oscar Wilde and James A. McNeill Whistler. Beardsley's contribution to the development of the Art Nouveau and poster styles was significant, despite the brevity of his career before his early death from tuberculosis.
In 1892, Beardsley travelled to Paris, where he discovered the poster art of Henri de Toulouse-Lautrec, and the Parisian fashion for Japanese prints, both of which would be major influences on his own style. Beardsley's first commission was Le Morte d'Arthur by Thomas Malory (1893), which he illustrated for the publishing house J. M. Dent and Company.
Beardsley was the most controversial artist of the Art Nouveau era, renowned for his dark and perverse images and grotesque erotica, which were the main themes of his later work. His illustrations were in black and white, against a white background. Some of his drawings, inspired by Japanese shunga artwork, featured enormous genitalia. His most famous erotic illustrations concerned themes of history and mythology; these include his illustrations for a privately printed edition of Aristophanes' Lysistrata, and his drawings for Oscar Wilde's play Salome, which eventually premiered in Paris in 1896. Other major illustration projects included an 1896 edition of The Rape of the Lock by Alexander Pope, and the collection A Book of Fifty Drawings by Aubrey Beardsley (1897).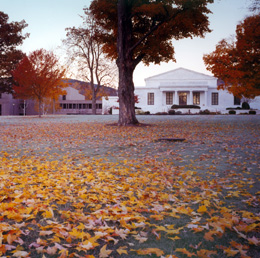 The Clark: Williams Town, MA
Although the collections have expanded greatly since the opening of the Clark in 1955, their scope and character continue to represent the taste and interests of Sterling and Francine Clark. Thus the collections focus almost exclusively on European and American painting, sculpture, works on paper, and decorative art from the Renaissance to the early twentieth century. The Institute's greatest strengths lie in nineteenth-century European and American painting, especially the French Impressionists; English silver; master drawings and prints; and, in recent years, the Institute's growing collection of early photography.
A number of nineteenth-century French paintings. As well as exceptional works by Renoir, Homer, and Sargent. As well as  rigorous program of special exhibitions further complements the Clark's  permanent collection.