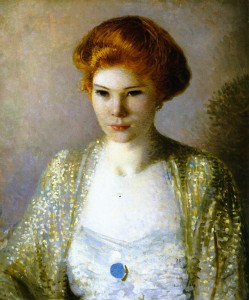 'Woman in White' by Howard Gardiner Cushing 
The Newport Art Museum's collections and exhibitions reflect Newport and Rhode Island's rich cultural heritage and lively contemporary art scene. The permanent collection of more than 2,300 works of American art concentrates on art and artistic activity from the late 19th century to the present day, and on those contemporary and historic works emphasizing the role played by Newport and New England artists, established and emerging, in the development of American art.
Among the strengths of the Newport Art Museum collection are paintings and works on paper by William Trost Richards, Fitz Henry Lane, John Frederick Kensett, Edward M. Bannister,  George Bellows, and other important 19th and 20th century artists. Newport's own American impressionists, Howard Gardiner Cushing and Helena Sturtevant, are well represented in the galleries. The Museum is also home to a growing collection of Rhode Island's most celebrated contemporary artists, past and present. They include Dale Chihuly, Italo Scanga, Hugh Townley, Aaron Siskind, Richard Merkin, Toots Zynsky, James Baker, Joseph Norman, Allison Newsome, Rita Rogers and Sue McNally.
Griswold House:
Home for the Museum since 1916, the Griswold House is a National Historic Landmark and an Official Project of Save America's Treasures. Designed in 1862 by architect Richard Morris Hunt, it was completed in 1864 for John N.A. Griswold, a China trade merchant and financier, and his wife Jane. Griswold House was Hunt's first major commission in Newport and is the premier example of American Stick Style architecture. Hunt went on to design many of the grand cottages of Newport's Gilded Age, including The Breakers, Marble House, and Ochre Court. 
The Newport Art Museum & Art Association– A group of community-minded artists and intellectuals, spurred on by activist and Pulitzer prize-winning author Maud Howe Elliott (1854-1948), founded the organization as the Art Association of Newport (AAN) in June 1912 for "the cultivation of artistic endeavor and interest amongst the citizens of Newport." A new charter adopted in 1915 expanded the AAN's mission to encompass all the arts, art education and the establishment of a public art museum.
The Association held its first exhibition in June 1912 and incorporated an art school in 1913. After purchasing the John N. A. Griswold House on Bellevue Avenue in 1915, the organization moved into the house in 1916.
Newport's own American impressionists, Howard Gardiner Cushing:
To me the most striking thing beyond the architecture of the exquisite mansion was Howard Gardiner Cushing's haunting portraits of his wife and muse Ethel.(pictured above "Woman in White")  Her beautiful golden hair and porcelain features. Almond shaped eyes, and pensive expression. My regret is that I didn't ask for some background history on the artist and couple, assuming I would find the information online. There is not much I could find about Mr. Cushing or his wife. But I found his paintings of her very intriguing and could see she was a favorite subject and with good reason.
To honor artist Howard Gardiner Cushing, an early member of the AAN, the Association erected the Cushing Gallery in 1920. 
Newport Art Museum
76 Bellevue Avenue
Newport, RI  02840
http://www.newportartmuseum.org/