At Southern Vermont Arts Center,  As you explore the campus, you'll discover an outdoor sculpture park. Yester House, once the 28 room Georgian Revival mansion and centerpiece of the former Gertrude Divine Webster estate. And the Wilson Museum.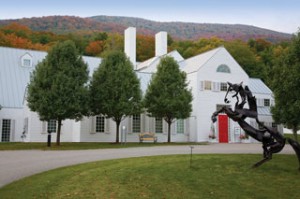 Elizabeth de C. Wilson Museum, Designed by noted architect Hugh Newell Jacobsen, the Wilson Museum admirably serves a dual purpose; first, it is a secure repository and display space for the Arts Center's permanent collection, now approaching 800 pieces of 19th and 20th century works, including the world's largest collection of works by Luigi Lucioni.
Secondly and very happily, the Wilson Museum offers an appropriate venue in which to host major national and international traveling exhibitions. In 2013, the Museum opens May 18.
Here's what we saw:
Kate Gridley, "Passing Through: Portraits of Emerging Adults"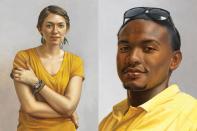 Kate Gridley's installation of larger-than-life-size oil portraits with accompanying sound portraits of seventeen young adults, honoring their passage into adulthood.
August 3, 2013 – October 21, 2013
10 am – 5 pm