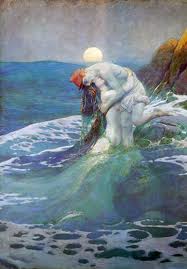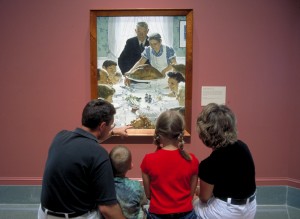 Norman Rockwell Museum
Stockbridge, MA
Norman Rockwell was probably most famous for his Saturday Evening Post covers
Which depict small town life in America. Often humorous, sometimes political, and always
honest.
In 1916, the 22-year-old Rockwell painted his first cover for The Saturday Evening Post, the magazine considered by Rockwell to be the "greatest show window in America." Over the next 47 years, another 321 Rockwell covers would appear on the cover of the Post.
"Without thinking too much about it in specific terms, I was showing the America I knew and observed to others who might not have noticed."
—Norman Rockwell
We recently visited the Museum which is set in the picturesque Berkshires on the property which also holds his meticulous studio were Rockwell did his work. (while listening to the "ball game" we were told)
A special exhibition of Illustrator Howard Pyle was on display
"Howard Pyle: American Master Rediscovered"
Howard Pyle (1853-1911) was one of America's most popular illustrators and storytellers during a period of explosive growth in the publishing industry. A celebrity in his lifetime, Pyle's widely circulated images of pirates, knights, and historical figures were featured in dozens of publications and were admired by such artists and authors as Vincent Van Gogh, Mark Twain, and Norman Rockwell. Organized by the Delaware Art Museum, "Howard Pyle: American Master Rediscovered" features 79 original paintings and drawings created by the artist between 1876 and 1910. The exhibition includes Pyle's paintings alongside related works by contemporary American and European artists, as well as selected paintings by Norman Rockwell, to show the cross-currents in both fine and commercial art.
The centerpiece of the display was his ethereal painting "The Mermaid" 1910 depicting a
Passionate embrace between mermaid and man. Beneath the deepening sky and rising moon, the juncture of opposing forces anchors this work: land vs. water—human vs. mermaid—strong vs. weak. The mythic mermaid rises from the briny foam and rescues a shipwrecked man who was descending into the deep. When Howard Pyle set off on his extended European travels in November 1910, The Mermaid was still on the easel in his studio, unfinished. Despite the later addition of fish and a crab by Pyle's student Frank Schoonover, what we see today is incomplete, and Pyle's intentions for this work remain unknown.