Although we have visited this museum several times when in San Francisco, it's too bad I didn't get a review here until now — because you've been missing out on a wonderful place to spend a few hours or the whole day.
Their permanent exhibits explain what "Asia" is, divides the rooms – on two floors – into geographical areas, and contains items large and small and all magnificent to look and learn.
Their temporary exhibits are just exceptional.  In the past we've seen some amazing items.  The curators put up just enough signage to teach you something but not too much to keep you from enjoying the item on its own.  And, I always say just enjoy them on your own – it's okay not to read everything posted in a museum!
On our recent visit in late February, the museum was in between temporary exhibits and getting ready to celebrate their 50th anniversary.   So we spent the whole afternoon wandering the permanent exhibits.  One of my absolute favorite pieces in every museum I have been in (and that's a lot of them folks!) is this….unfortunately, once again I forgot to take a picture of the note explaining its origins.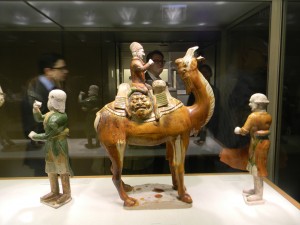 We haven't tried the cafe in several visits, as a few years ago, during our first try, we did not enjoy it.  A very long line, inefficient service, and high price for the food.  But, please, if you've recently enjoyed the cafe, please make a comment here and let others know, or check TripAdvisor for current feedback.
It's easy to get to this museum, especially with Uber or a taxi.  We've even walked there or taken a bus.  On a nice day, there's places to sit in the surrounds to soak in some sun and picnic on a sandwich you brought with you, or just people watch.
Do check out the gift shop!  It's a lovely collection of buyable art – large and small, very expensive to little trinkets for the children.
If you're in San Francisco with or without flowers in your hair, stop by.