Or at least his bedroom is in Chicago…   On the last Thursday of February, hubby and I stopped by the Art Institute of Chicago.
I say stopped by because we were on a break between trains on our way from San Francisco to Springfield, MA via Amtrak.   What a great opportunity to spend a few hours in a museum instead of a lounge.  (P.S.  Think about it — when's the last time you decided it was "easy" to get out of and back into the airport when you had a layover of three or more hours?)  When you ride Amtrak, you can come and go pretty easily.  We were in a sleeper car, so there's a nice lounge with bag check, restrooms, and free non-alcoholic drinks.  Although, next time you are in Union Station, check out the new lounge they have for others riding Amtrak through Chicago.  We went to look it over and were welcomed in and given a tour – great publicity by the way.
But, back to Van Gogh.
As the museum site recommends, try to go see this amazing exhibit at a slower time.  We just happened to be there on a Thursday afternoon, from about 3 or so to just about 5:30 and the exhibit had no line to get in.  And while there were plenty of folks in the exhibit, it really was slower and you were able to see the works, the videos and the information posted very easily.
The exhibit, titled Van Gogh's Bedrooms, explores, in particular, the three paintings of his bedroom in Arles.  They are united for the first time.  Although, I don't recall if the exhibit mentions whether they were ever, in fact, in one place since they were painted over the course of a year in two different locations.
There is a life size reproduction of his bedroom to stand near (although not quite in) to both give you perspective on the room and the view from which he painted it.   There have been several articles that on Airbnb you could rent his bedroom, but my search on Airbnb didn't turn it up.   When we were in the exhibit, we thought perhaps you could rent that one, although it didn't seem that really would be possible, or that pleasant!
The exhibit is well laid out, with videos of the scientific results of closely looking at all three and what that revealed.  There are 36 other works of his on display related to his life and these three versions of his painting.  There is adequate, but not overwhelming information alongside the items on display.   The curators have included a great timeline of his whole life, and how many places, and beds, he slept in.  Although I've seen many of his pieces before, in other museums or special exhibitions, I was really struck by the fact that he picked up a brush at 27, and died 10 years later!  What  a mark he made in his short life as an artist!
Also on display are a few of his tools of the trade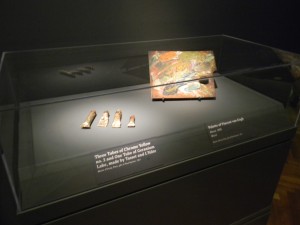 for those interested.
Even if you are unable to get there – and I would highly recommend try to as this is its only venue in the United States — at least explore what the Art Institute has posted online of the exhibit. It's family friendly – and actually, I think children would find it very interesting to see the versions of the pieces and the full size bedroom.
A fascinating look into the workings of one artist who seems to always fascinate us.